Devendra Mishra
---
Professor Devendra Mishra has been straddling the worlds of academia and business with equal elan. He has been a major innovator and leader in the sectors like entertainment, consumer electronics, video game, biotechnology and Hollywood for more than three decades. Prof. Mishra is currently Adjunct Professor of Decision Sciences at the Graziadio School of Business and Management, Pepperdine University—a post he has held since 2004—and Executive Director and Founder of the Bio-Supply Management Alliance (BSMA), Executive Director and Founder of the Hollywood IT Society (HITS), and Co-Founder and Chief Strategist of the Media and Entertainment Services Alliance (MESA). Prof. Mishra holds a BS in Mechanical Engineering and a D.I.I.T. in Production Engineering from the Indian Institute of Technology, Kharagpur, where he excelled and received B.C. Roy Gold Medal for the Best All-round Graduate of the Institute. He also has an MBA degree from Butler University and an MS in Operations Research from Purdue University.
Prior to 1986, Mishra was Vice President of the $900 million worldwide manufacturing and distribution operations of RCA-Ariola Records. Mishra integrated manufacturing and distribution of music of RCA and Ariola in twelve different countries of the world. In 1982, he re-engineered the national distribution of RCA to implement a revolutionary concept of "Hits-Catalog Distribution" which became the hallmark of the entertainment industry. He also built a unique audio manufacturing facility based on the principles of Edward Deming.
From 1986 to 1992, Prof. Mishra held senior management positions at LIVE Entertainment, a diversified supplier, wholesaler and retailer of home video and music, where he finally served as the President and Chief Operating Officer. Growing it from $28 million in 1986 to $560 million in 1990, the company became the largest independent home video company in America.
Prof. Mishra was President of Worldwide New Media, Distribution Services and New Ventures at Technicolor Inc., where he strategically developed and launched Technicolor Entertainment Services to supply movie prints to theaters in the United States. He engineered and built an 'Optical Media Manufacturing Facility' which became the world's largest and premiere facility. Earlier, from 1994 to 1996, Prof. Mishra was the Chief Executive Officer of International Multifoods' billion-dollar specialty distribution subsidiary VSA, Inc. He was the also CEO of Stan Lee Media of Spider Man fame during 1996–98.
Apart from these accomplishments, Prof. Mishra has published over 120 papers in digital supply chain, physical supply chain, information-driven distribution, total quality management, and manufacturing. He has also been a contributing editor of two leading industrial and production engineering handbooks.
Prof. Mishra lives in Calabasas, California, with his wife Shanta and is blessed with two sons.
Devendra Mishra
Amarendra Mishra
---
Amarendra Mishra is a renowned innovator, scientist and business leader with an outstandingtrack-record in taking solutions from the laboratory to the market.Born to Prof. Rajendra Mishra and Smt Sharda Mishra, Mr Mishra obtained his BS in Metallurgical Engineering and Materials Science from IIT Kharagpur in 1969. He subsequently pursued a Masters in Materials Science and Metallurgical Engineering at the University Of Notre Dame in 1971, and obtained his PhD in Materials Engineering from Rensselaer Polytechnic Institute, 1974.
Dr. Mishra has led research teams to some of the finest innovations at PPG Aerospace including electro-chromic windows and abrasion-resistant and hydrophobic coatings for the Boeing Dreamliner 787. At PPG Aerospace SBU, he led highly profitable R&D programmes. At General Electric, he commercialized more than 10 innovative products/processes with significant impact on bottom-line and manufacturing costs. He also led new materials development in the areas of Composites and Coatings for Surface Modification at Engelhard Corporation and managed a custom fabrication titanium P/M business with Profit and Loss Accountability.
Dr. Mishra has received several patents, numerous managerial and technical awards, and trade secrets for outstanding contributions to diverse businesses (GE, PPG, Engelhard): from state-of-the-art lighting systems to aircraft windows. Mr Mishra has been the recipient of Technical Achievement Award from the CTechnical Council for outstanding contributions towards the advancement of engineering and technical professional societies in greater Cleveland. A Sigma Logic (Six Sigma) Catalyst Trained professional, he has taught several, highly rated, in-house materials science courses to high potential employees within General Electric.
Dr. Mishra has published over 80 technical papers and reports, and he has beeninvited to speak at several national and international conferences for the last four decades.
At his alma mater, IIT Kharagpur, he organized the now famous Spring Festival and led many several cultural events including the first professional cultural programme organized by the Institute.
Dr. Amarendra Mishra and his brother Prof. Devendra Mishra have generously contributed to IIT Kharagpur's Rajendra Mishra School of Engineering Entrepreneurship, which is carrying forward their late father's legacy and spirit.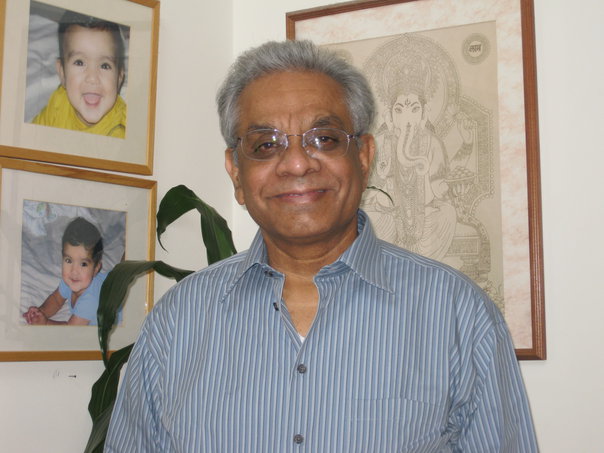 Amarendra Mishra